Over 400 organisations use UbiCast for

LECTURE - CAPTURE
Digitise lectures and deliver them as searchable, engaging videos through your existing LMS

MOOC CREATION
Easily create high quality, short, interactive learning videos for your MOOC programs

ONLINE TRAINING
Provide collaborators with online videos for flexible learning within your organisation

WEBCASTING
Stream your conferences Live with distant audiences and on-demand to capitalise on knowledge
From Record to Play
---
Your presentations, in a video format optimised for delivering knowledge.
Recording is automated and sharing content is a breeze.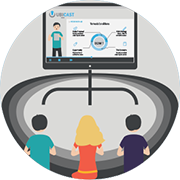 YOUR PRESENTATION
Live training, courses, seminars, events or your dedicated studio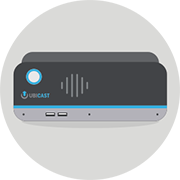 UBICAST
Records your presentation and automatically produces animated, branded, searchable content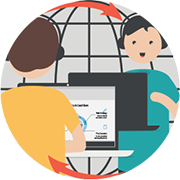 YOUR AUDIENCE
Views and reviews content on any device, searches within content and interacts with peers.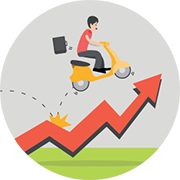 YOUR ROI
Reach anyone, anywhere, save on travel and avoid repetition. All backed by detailed statistics.
More than video, create Rich Media
---
It's the best way to share information digitally
---

COMPREHENSIVE
Deliver full information with audio, video of the presenter and any type of presentation material
INTERACTIVE
Access key information with navigation by search, chapters and slides, display slides fullscreen and post comments

ENGAGING
Maintain attention with presenter tracking and dynamic production and raise your brand awareness
At first our expectations seemed almost unattainable : to produce content that would reach our high standards of quality, and do so with almost no human intervention. UbiCast have provided us with exactly this and have supported us throughout the deployment.
Mourad Larab
Digital Learning Innovation Manager , the University of Thales (France)
EasyCast is exactly what we needed: an easy-to-use system to record regular presentations and publish them directly to our existing portal. The system has really saved us huge amounts of work and drastically improved on quality.
Erwan Baynaud
Head of the Hypermedia Team, Alcatel Lucent (France)
We chose this solution because it's so easy to set up and use.
Emmanuel de Bentzmann
Training and HR Manager, Audi (France)
I've been involved in the sourcing, installation and use of the UbiCast system. Overall it is very impressive – it is intuitive, easy to use and produces good quality content which can be published easily to a USB, server or YouTube channel (or similar). Ubicast staff are very good indeed; they were very helpful during the sourcing and decision-making process and the tech support (based in France) answer questions quickly and helpfully
Jim Smith
Programme Director, Gates Cambridge University (United Kingdom)
We are happy with the UbiCast system. Other departments have admired its capability and are interested in using it. Other lecture capture systems we have do not offer the full experience we have with UbiCast. The UbiCast system has undoubtedly been a success - when we surveyed our Masters students, they want more of this - more recorded lectures and more access online.
Chris Evans
eLearning Manager, University of Warwick (United Kingdom)
The system works well and worked immediately; a rarity for a new piece of software! We are very pleased with the performance of the system to date and I am excited by the development opportunities UbiCast offers. I look forward to taking it to the next stage.
Jane Bennett
Operations Manager, Christie Hospital (United Kingdom)
A few of our clients