SHARE YOUR KNOWLEDGE AND COLLABORATE WITH VIDEO

Europe's largest cancer centre implements lecture capture and increases access to its high value content.
Flexible learning delivered to anyone, anywhere
---
In an environment where time is precious and up-to-date knowledge is key, flexible learning within health organisations is crucial. Whether it is to facilitate new employee induction, to train geographically dispersed medical staff or to inform them of the latest news, online video is a powerful ally.

But video is traditionally complicated and expensive to produce, requiring dedicated staff and lengthy post-production.

EasyCast changes all that with a Start/Stop user experience and advanced automation. This opens up a whole range of applications for modern health organisations.
Contact us for your personalised demo
Capitalise on live training and conferences
---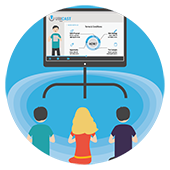 Training capture
Whether you are enabling one or dozens of simulation or training rooms, recording is fully automated and transparent for trainers.
Record training and lab sessions to retain key information and build a knowledge base
Easily access specific information with advanced navigation and search
Unavailable collaborators can view sessions on-demand and in full detail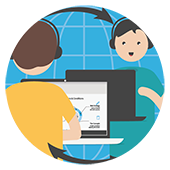 Conference streaming
Webcast your conferences Live and on-demand, in high-quality interactive video.
Bridge distance by Live streaming from an operation theatre to another location
Address audiences in different countries and time zones to share valuable knowledge
Deliver your content through a branded, secure video portal
Create off-the-shelf learning content
---

Video modules
Create E-learning video modules that can be accessed on-demand.
Easily produce off-the-shelf content – without technical skills
Build a training catalogue accessible anytime, on any mobile device

Just-in-time videos
Quickly create new instructional or procedure videos.
Video is the best way to get the full message across to large audiences operating on different schedules
Statistics reports confirm mandatory viewing