A PLATFORM TO CREATE, EDIT AND PUBLISH VIDEOS ONLINE
A video platform to safely and easily record, host and share your video.
Turnkey streaming and editing of your videos and Rich Media
---
Your WebTV
---
The MediaServer consists of 3 elements:
secure storage for your content
a Live and on-demand streaming server
a video portal to organise your videos

On-premises
Control your content and security by deploying locally.
Virtualise MediaServer to reuse your existing servers
Full remote support for deployment and maintenance
Scale your infrastructure as your needs grow

In the Cloud
Fully outsource your video infrastructure to specialists.
Our Cloud solutions are based on AWS, a scalable and reliable platform
Perfectly adapted for viewing peaks and large audiences
Your content is automatically backed-up
The MediaServer's top features
---
An ideal solution to manage and deliver existing videos and Rich Media to your audience, no matter where they are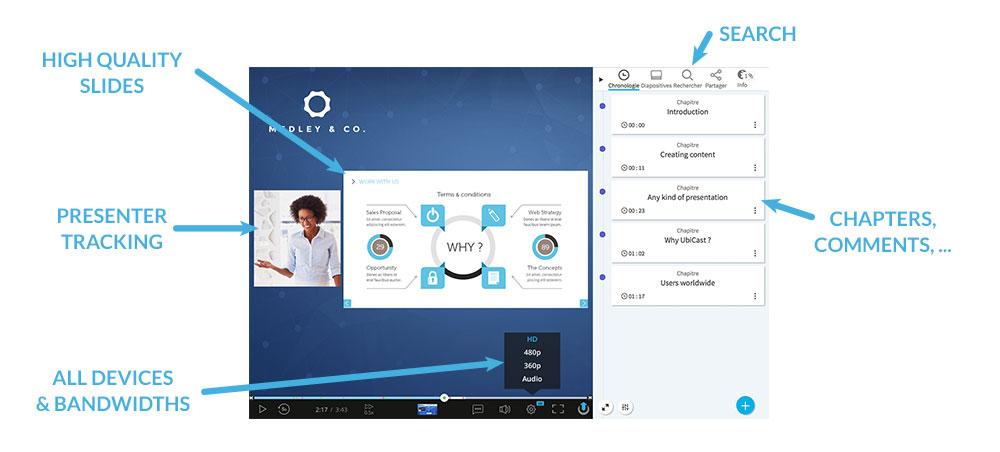 Advanced Rich Media player
The player actually enhances the viewer experience versus physical presence.
Visual navigation by slides and text search to find specific information
Variable playback speed for slow or quick reviews
Display data fullscreen and in full quality for details on slides
Universal playback without need for an app (HTML5 and Flash)
Interactivity
Whether you are delivering a live event or offering video-on-demand, engage with your audience through interactivity.
Live chatting and comments, with optional moderation
Add any third party web application to the MediaServer (Twitter wall, polls, voting, etc.)

Branding
Add your own graphical touch to your video portal.
Access to full customisation (HTML5, CSS)
Full control over Home page composition and widgets
Player customisation
We believe in clean, streamlined workflows

LMS integration
Collaborators and students should not have to use another platform.
Integrates with Moodle, Blackboard, Ilias, etc.
Detailed rights management using the LTI protocol
Any editing done by trainers and teachers is done directly in the LMS
Focus on clean workflows

User authentication
Log in once into your intranet or LMS, we will know who you are.
Supports viewer/user authentication with LDAP, CAS, AD, OpenID
Viewers only access content they are allowed to see
Easily create and edit existing user groups

Detailed statistics
Data is feedback on your recorded lectures and courses – and your ROI.
Detailed statistics include average view time, names of viewers and video heat map
All data can be downloaded and imported into spreadsheets for advanced reporting