Lecture capture at Warwick Uni. case study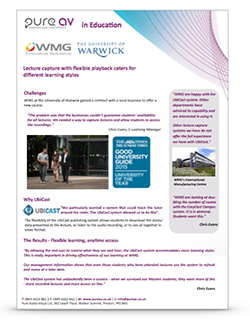 Having deployed UbiCast's Campus solution in early 2014 for automated lecture capture, WMG at University of Warwick gave us their feedback after using our solution in production. The results are great, with quotes such as "WMG are happy with the UbiCast system. Other departments have admired its capability and are interested in using it. Other lecture capture systems we have do not offer the full experience we have with UbiCast".
The solution was deployed by one of UbiCast's strongest UK partners, Pure AV, delivering yet another great lecture capture installation.
Read the full case study here.