Conference with Thalès University during the Paris e-learning show 2014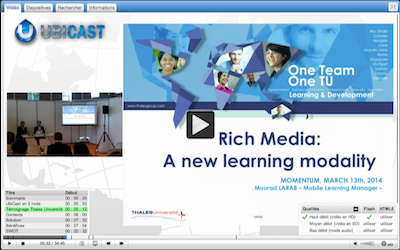 How to create tailor-made content easily and cost-effectively ? A testimonial from Thales University during the e-learning trade fair in Paris.
The 3 main ideas from our conference : "Automatically produced learning resources : going beyond off-the-shelf content without sacrificing quality"
Return on investment, quick and significant : in a year, Thales Université created more than 65 internal training Rich Media videos with the EasyCast Studio, manned by a single half-time person. It would have cost our client more than 162 000€ to produce the same quantity of content by subcontracting with a specialized company. The purchase price of the EasyCast systems was thus rapidly amortized.
Universal compatibility, including SCORM : media created with EasyCast is readable on any device (tablet, mobile, Learning Management System (LMS), etc.) and viewers' learning paths can be statistically logged using SCORM. This compatibility addresses the learners need for mobility and flexibility.
Immediate online publishing : the high level of automation and ease of use of UbiCast solutions enables training staff to regularly create high-quality Rich Media. Thales University creates its own content, manages its post-production and then publishes it online in only 24 hours – all by using only the EasyCast Studio. The time necessary to put content online used to be at least 15 days when Thalès was sub-contracting content creation to a specialized company.