UbiCast expands in Benelux !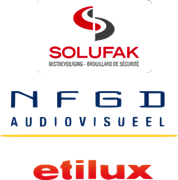 We are pleased to announce the certification of 3 audiovisual integrators in Belgium and the Netherlands.
We are now working closely with Solufak, NFGD and Etilux. These partnerships strengthen our presence abroad, and especially in the Benelux area. Thanks to their solid reputation and technical proficiency in the audiovisual sector, these companies represent a significant asset for UbiCast.
For a company to become a certified partner, it is required that sales and technical staff undergo training that allows them to show UbiCast solution in full autonomy, with the help of a demo unit and a MediaServer platform. Indeed, in order to guarantee the highest level of service quality to our users we carefully select our partners and make sure they are thoroughly trained.