170 lectures from the 2013 Libre Software Meeting recorded with EasyCast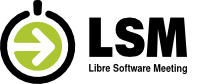 This year, for the fourth consecutive year, UbiCast sponsored the LSM 2013 event (Libre Software Meeting) in Brussels and provided capture systems to record almost all conferences, which are published on the event's dedicated media portal video.rmll.info under Creative Commons Licenses. The scale of recorded presentations – 170 conferences captured for a total duration of 114 hours of content – and delivery time (all content was available online just a week after the actual event) was only made possible with the high level of automation provided by EasyCast solutions.
Our participation in the LSM is a contribution to the Free Software movement, an opportunity to exchange with the members of its community, and also to experiment and push our systems to their limits (bêta version and features, use of Open Source Elphel cameras).
We strongly believe that our solutions can be used to spread knowledge openly and massively, here's proof !