The Open Source event RMLL 2012 online with UbiCast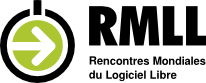 For the third consecutive year, UbiCast will sponsor the RMLL (Open Source Worldwide Meeting), which will take place near Geneva, from July 7th to 12th, in Switzerland.
This year, 7 conference rooms will be simultaneously recorded in Rich Media format by UbiCast automated solutions, in order to offer the whole summit on a VOD basis. This partnership underlines UbiCast's commitment to the Open Source community worldwide, and is one of many Open Source events sponsored by the company. Along the same lines, UbiCast also recently equipped the Linux Foundation (based in San Francisco) with 8 Lecture Capture systems for their regular summits on the Linux platform that take place all around the world.
To know more about the summit :http://2012.rmll.info/
Update: approximately 100 hours of videos (200 invididual talks, 7 rooms) were published less than a week after the event, at http://video.rmll.info/