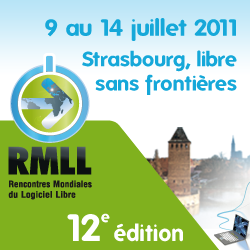 This year, UbiCast is again backing the RMLL (Open Software World Meeting) which take place in Strasbourg from the 9th to the 14th of July.
This year, it is comprised of more than 250 conferences with major speakers, such as Richard Stallman, President of the Free Software Foundation or Jeremie Zimmerman, Speaker for the Quadrature du Net organisation. Beyond the keynote presentations, this meeting is also an associative fair and a festival of the free numeric arts.
This is with great pleasure that UbiCast will bring once again its expertise to capture the various presentations and make them available for free on the Internet.