UbiCast event at La Cantine : become your own media!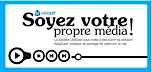 La Cantine has been a test location for UbiCast for a year now and for this occasion UbiCast and La Cantine have prepared for you a unique event.
As an introduction, Philippe Bornstein (pbornstein.com) will explain to us the market of online vidéo in 2010 and its perspectives.
Slip into the skin of a movie producer, using EasyCast, be an actor and participate in workshops revolving around the theme of video as a revolutionary medium.
To participate and learn more, click here.
We hope to see you there!