UbiCast at the Intranet Solutions trade fair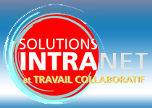 On the 12th and 13th of may the Intranet Solutions and Collaborative Work trade fair will take place at the CNIT, in the business district of La Défense.
UbiCast will present its latest product, the EasyCast Knowledge Recorder, an autonomous solution for corporate training course capture and sharing.
The solution is aimed at organisations who wish to very easily film and share internal training courses through their Intranet in order to reduce travel expenses for distant employees and offer information on an on-demand basis.
More information will be available on our website once the product has been unveiled at the fair.