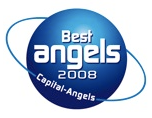 The Best Angels day is organized by Martech & Finance and is part of the Capital Week event. Its objective is to create meeting opportunities between innovative project leaders and private investors.
April 23rd 2008 is in particular oriented toward young start-ups seeking their first round of financing. This day enabled UbiCast to acquire contacts within many large Business Angel networks by presenting the project to them.
Indeed, UbiCast CEO, Tanguy Yu, was, along with 20 other project leaders, designated Best Angel 2008, and given the opportunity to present the company and its financing requirements in front of a full amphitheater at the Sorbonne, in Paris.